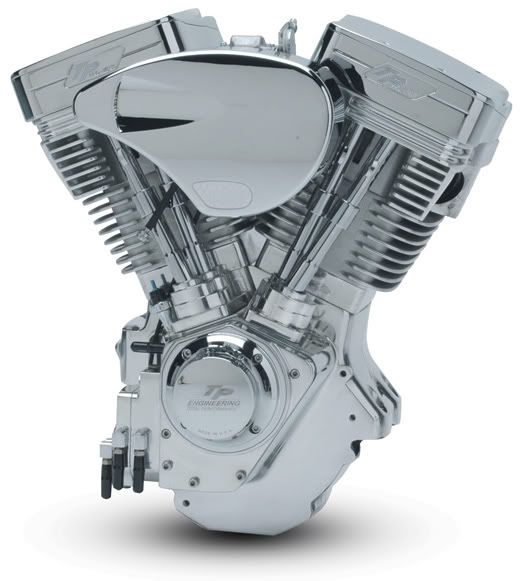 WIN A TP ENGINEERING ENGINE
By: chesshirecat
Category: Uncategorized
WIN A TP ENGINEERING ENGINE–Win a $7,500 value TP Engineering 121ci engine just by attending the V-Twin Expo EASYRIDERS Events and TP Engineering have come together to offer one lucky dealer the opportunity to walk away from the show with one of TP Engineering's award-winning 121ci v-twin engines.
Worth some $7,500, the engine will be awarded to one lucky attending dealer at the event's Saturday evening industry reception (February 7th).
"Simply by registering and attending the Expo, this engine could be yours", Show Manager Jim Betlach told AMD Magazine. "The engine will be on display at the show and dealers will automatically be entered into the draw when they pick up their badge holder at one of the Expo hotels or at the Convention Center", Betlach explained.
"We are also again running our FREE lodging draw whereby some lucky dealers will have their hotel room 'comped'. If a dealer registers in advance, then he or she could be the lucky one selected."
The 9th annual V-Twin Expo will be the premier industry event this year for the custom v-twin and Harley-Davidson parts and accessory aftermarket. It will see dealers, custom v-twin builders and parts and accessory vendors from all around the world gather to see the year's new products, take advantage of show special offers from exhibitors, and attend highly relevant and perfectly timed seminars featuring a selection of industry experts.
The event opens at 10:00 a.m. on Saturday February 7th and runs through 1:00 p.m. on Monday February 9th at the Duke Energy Center in downtown Cincinnati, Ohio.
To register in advance for the event visit: http://www.vtwin-expo.com
Tel: 952 443 4168
Fax: 952 443 3678
E-mail: vtwin-expo@reactionmanagement.com
(From the pages of Bikernet)
2 comments on "WIN A TP ENGINEERING ENGINE"
Nice motor. Too bad for me the show's not in Boston.

The motor I got is more than I can handle.That is why I went through so many rear tires. Love those street rides to coffee shops.Pap