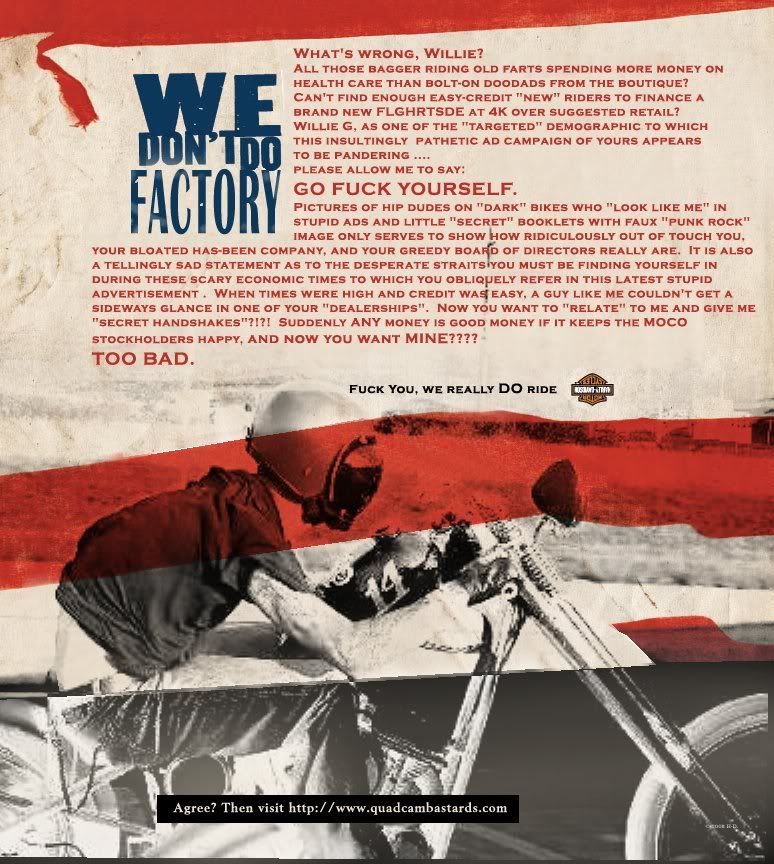 Something a Lot of Grey Beards Want to Say to HD
By: chesshirecat
Category: Uncategorized
9 comments on "Something a Lot of Grey Beards Want to Say to HD"
LOL! Looks like some of the younger crowd has an ax to grind. More power to them doing their own thing, especially sticking up for Sportys, which have always been unfairly denigrated.Taking shots at the Motor Company for being out of many folks price range – both young and old – isn't exactly fair. H-D isn't running a charity. It's a business. Like if theses "bastards" were making and selling their own custom bikes and went through a time where demand was greater than supply, they wouldn't price gouge their customers? Sure they wouldn't, wink-wink, nod-nod.I'm glad Harley's been one of America's most successful and long-lived businesses. If they weren't making money, there'd be no more Sportys for them to "bastardize," and no more garbage-wagons for us "old farts" to trade up to. They shouldn't be dissing Willie G. He's done more to cater to people just like them, meaning customizers, than anyone else in Milwaukee. He was part of the group of 13 executives that raised the money to buy the Motor Co. back from AMF, and he was the driving force behind H-D's first factory custom, the FX Super-Glide.If it wasn't for Willie, H-D would likely have gone the way of the buffalo before most of these smart-ass "bastards" were even thought of. It should be more like, "thank-you" than "fuck-you." Then again, these days being respectful to elders is a very scarce trait among America's youth. Too bad I likely won't be around to see how they handle being on the receiving end in another 30 years.

Seems the MoCo is now embracing what it once hated…..

These guys are just a club who came up with a way to draw attention to themselves, just like many of us have done with our blogs. They have a cool looking website, and looks like they have a lot of fun doing what they do.But as far as "pictures of hip dudes" and "stupid ads" as they were quoted as saying, what more can I say about theirs?

You're exactly correct. Yes, looking back, I see I should have said where I found this at, so it could be put in perspective. My mistake.I'm not entirely happy with MoCo, I feel one of the things they have done Wrong is to fashion their corporate image after the big three auto makers here in the states. I'm just a small fish looking in and I maybe wrong, but when I hear that HD is looking for the same BS handout from Uncle Sam that the big three auto makers got…then I feel like I've been betrayed. HD pulled themselves up more than once from virtual death by reinventing the wheel. Not by asking the government for a handout. From my view point, if they are not strong enough to cut the fat from the budget, trim the meat from the bone, and eat some shoe leather like the rest of us from time to time…then they have lost track of American work ethic. They have become such an entity of money…that no one is taking responsibility for what has gone south in the company, for greed, for immediate profit rather than long term health of the company.The government refused to give them the money for a bail out, now they are starting to do some of what needs to be done, but of course the first people to lose out, is the little guy…I've yet to hear if any of the corp. big wigs are taking any salary cuts…have you?

HD has a history of alienating it's followers & doing what it once didn't like that's how it says, but with the internet people remember stuff longer cause it's easy to find, now this is catching up to them. – Back in the AMF days dealerships were mom & pop places you could hang out & see cool stuff. Then these people got forced out for the sanitary stealership, now destination Daytona where AMF bikes are haled as classic?- Sued Honda over a sound…. now the Vrod- High tariffs on jap bikes now look who sells the most in Japan- Ran hate adds & legal campaigns to stop people from calling their bikes Hogs now Harley Owners Group.- I just got an add that has a guy with no helmet on doing a burnout on an HD with a disclaimer saying how dangerous it is????I realize it's business & they will most likely make it through but it's a little sad to me it has to be like that.

Juan, I started working at the parts counter for an HD Dealership back in '78. It was in an alum. building, it was nothing fancy, but it did have a nice show room, we had a huge garage area for the mechs. and it was owned by a guy who didn't know crap-ola about motorcyles…but we were left alone to run the shop and the parts department, we had our friends hang, we met more people by allowing them to sit and shot the shit with us…or simply hang out while we went about our daily business. We had magazines to read, (Easy Riders,) and we kept coffee on the burner. Back in the day…you could smoke and shot the shit at the same time in the show room or in the shop…yeah…things have changed…

I don't know about Willie D. re-inventing the wheel, I seem to remember that HD was rescued, first by AMF, then by Ronald Reagan. Some of the Jap "embargo bikes" from those days are still around and on the road. Maybe protectionism isn't really a "handout", just a poor idea. The breed has only been improved when threatened by competition. I think a lot of top-heavy corporations are going the way of the buffalo. I won't morn Walmart but I'd like to see HD get it together.

Friend just turned me on to your site. Love the artrchttp://www.bigbendbikersforfreedom.com/

I think the 'ad' is hilarious. Although the logic is a bit confused, it shows that a lot of H-D riders are passionate about the brand. And if the brand is to continue, it needs to appeal to the 'hip dudes', because they have the money to buy new bikes and keep the company afloat.