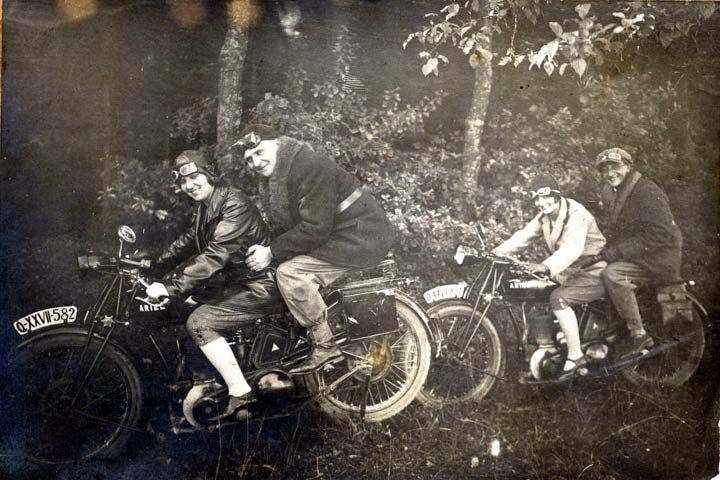 Ariel Motorcycles…It's another history lesson
Ariel Motorcycles….
Ariel started life as a manufacturer of air inflated rubber tires for horse drawn carriages around 1847. By 1885, Ariel, under the leadership of William Hillman and James Starley changed gears, turning the factory toward the wave of the future, the bicycle.
Ariel decided to ride with the design known as Rover Safety Bicycle, with it's wire spoked wheels, chain driven propulsion and it's all metal body….as opposed to the "penny-farthing" bicycle design of the times.
Photo from Science Museum, London
Photo from Photo from Science Museum, London
By 1900, Ariel being the progressive company and thinkers of the day, had begun to shift their mechanical attentions toward the motorcycle. It all started with their de Dion-Bouton powered vélocipède tricycle in 1898.
Photo from Motorbase.com
Then in 1901 a motor driven bicycle….
Photo from the http://home.scarlet.be/~md1945/history.html website

from the http://home.scarlet.be/~md1945/history.html website
Early Ariel models used 3rd-party engines manufactured by J.A. Prestwich Industries Ltd. in Middlesex.
Photo from/by Denis Gosney. Thanks to David Withers for pointing out that the DL registration is from the Isle of Wight. And also thanks to Alf Ashbrook for identifying the bike as a 482cc Ariel of around 1910. VintageBike.co.uk
To learn more about JAP Industries be sure to click on the above link!
In 1927, Ariel put into production: The Ariel Red Hunter. This bike was designed by Val Page, who in 1925 became Ariel's chief designer. According to Wikipedia
Page had to wait until 1927 before a suitable frame and cycle parts were designed. These formed the basis for what was to be the Ariel Red Hunter, which continued successfully until Ariel ceased production of four strokes in 1959.
This photo is from: http://www.vintagebike.co.uk/Bike%20Directories/Ariel%20Bikes/pages/Ariel-Red-Hunter-37.html and is the property of Alistair Godfrey of Bristol
From here on out…the information is so good, I could only copy and paste, I don't think I could write it as well as these folks….
http://motorbike-search-engine.co.uk/classic_bikes/ariel-motorcycle-history.php The only contribution to the storyline from here out… I found the related pictures and posted em here…Sigh…
The introduction of Edward Turners OHC Sq 4 500cc occurred in 1931.
The Sq was enlarged to 600cc for sidecar use in 1932, but shortly after this, the company went in to liquidation following the depression of the early '30's. The phoenix that arose from these ashes went on to rationalize the range back to upright singles and the 600 OHC Sq4, all installed in a more or less common frame.

Towards the end of the 30's the Sq4 became an OHV pushrod motor of,

VB600 From http://www.vintagebike.co.uk/Bike%20Directories/Ariel%20Bikes/pages/Ariel-VB600-46.htm

first 600cc then the 1000cc Iron engine 4G of the Pre and Post-war era. Late in the 40's Ariel introduced a 500 OHV twin designated KH.

This photo belongs to Andreas Melcher

At the beginning of the 50's the Iron engined Sq4 was developed into an Alloy engined model, the MK1,

1951 Ariel Square Four 4G Mk I Photo from Vintagebike.co.uk

which was itself superseded in 1953 by the classic 4 pipe version, the Mk2. For the next year the range of Ariels were produced in the Pivoted Rear Fork frame option, except the Sq4 which remained in a plunger frame until production ceased in 1959.
In 1954 Ariel produced the 650 Huntmaster,

Ariel Huntmaster 650cc 1959 Thanks to Martyn Roberts for this picture of his 1959 Ariel Huntmaster 650cc.

the engine of which was based on the BSA 650 A10, with which it shares many internal components, and also a small 200cc four stroke machine, the Ariel Colt.
The Ariel LH Colt model was built from 1954-59 and was essentially a copy of the BSA C11G model.

The revolutionary 250cc Ariel Leader was produced from 1958 until 1966, being joined by its undressed sibling, the Ariel Arrow, in 1960. A smaller 200cc engined version came on the scene in 1964.
By the early 1940s, British industrialist Sir Bernard D.F. Docker (1896-1978) became chairman of BSA. Docker was also chairman Daimler Motor Company during roughly the same period. Under Docker's leadership, BSA acquired Triumph Motorcycles in 1951, making them the largest producer of motorcycles in the world. He also acquired the motorcycle interests of British manufacturers' Ariel, New Hudson and Sunbeam.
13 comments on "Ariel Motorcycles…It's another history lesson"
It's nice to see how the bikes evolved to be handsome motorcycles.

I realize this isn't what most of you thought you were signing on for when you started coming here…but in the early days of this blog…writing these kinds of stories is what I did mostly. It will become more frequaint now, as the days grow shorter and colder…and I won't be riding as often…Oh stop it….I will still be riding…but I don't have cold weather electric clothing and gloves…I'll be going the old fashioned way!See ya on the road!Chessie

Good stuff Chessie… I personally love the front fender license plates. I think we should bring that back in the USA!

I love these old bikes. Just look at their design and craftsmanship. Back when they did things "The Long way" is what I call it.Some of the things we take for granted like the foot shift. Anyway, I really enjoyed this little walk down an old road. Thank you much.John

The later bike remind me of the bike the American chopper guys build on one of their shows for Jay Leno, it turned out nice for a knockoff.Big Al

that was pretty interesting thanks

Luvin the history lesson! Oh to have one of those classics.

great history lesson 🙂 my how bikes have evolved!

Swag…thanks for the compliment…your swelling me up here…better check to see if the doorways are wide enough before I enter or leave a room for a while!John, these old bikes tell a huge story of the bikes we love to ride today. I see some designs in this Ariel that are still in use today on my beloved Sportster… not to mention designs used on the BSA and Triumph!GYMOR…shame on you! LOL mentioning those guys in the same breath as these classic motorcycles! The shame of it all! (I've got a smile on…it's all OK really!)Living Dead Nurse…I'm glad to see you've returned…it's hard to forget a moniker like yours…I am just glad to see you here…Rob: "Oh to have one of those classics" boy you aren't kidding…and in running condition? Man, that would be ….ahhhhhPartyGurl: it's great to see and get a feeling for what your riding today…

Hi! Your blog is simply super. you have create a differentiate. Thanks for the sharing this website. it is very useful professional knowledge. Great idea you know about company background. Increasing your web traffic and page views Add, add your website in http://www.directory.itsolusenz.com/

Thank's bro.. i like this Ariel product

>Chessie, just love finding these treasures here. Because of you I've learned more about Ariels, plus knew I could count on you for something interesting on a cold raining night.

>I'm glad you enjoyed the read Mr. Bugger! It was loads of fun researching and looking for cool photos!