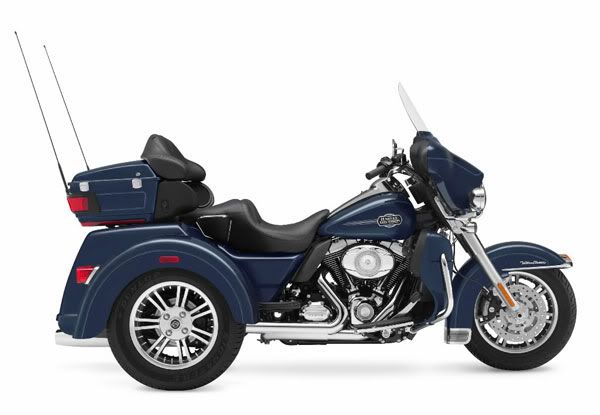 YORK PA. HARLEY DAVIDSON GOES IN HOUSE WITH TRIKE BUILDS
Harley-Davidson reps announce trike production will be moved from Lehman Trikes, based in Spearfish, S.D., to the Springettsbury Township plant in York County.
"Our decision to move trike assembly is based purely on the restructuring of Harley Davidson's York operations, which now provides the opportunity for us to build trikes in house and streamline trike assembly and distribution," says Julie Chichlowski, director of Trike Platform at Harley-Davidson.
Production of trikes at the Springettsbury Township plant starts this summer, when work on 2011 models begins.
It's been reported on Fox 43 out of Harrisburg PA. that Harley is recruiting about 400 "casual" workers. This announcement was made on the 13th, while the announcement for the in house trike builds was widely reported on January 18th. Harley, rather than calling back and rehiring the hundreds of worker who have been laid off over the past 12 months, invited hand picked ex-workers to come back and interview for the "casual" work slots. The casual worker is not entitled to any employee benefits. So it's not going to be any secret how they are going to save money doing the job in house. The Casual worker will not be able to acquire 40 hours a week, but they will receive $16.75 an hour in compensation.
I'm happy for Harley Davidson of York. Some of you maybe aware, I lived in Lancaster County PA for about ten years. I'm proud HD has found a way to stay in business and recall some of the laid off workers…even if only as casual part time workers. I believe the labor union may have something to say about this…depends on how smart HD was in the restructuring of the company. I have a feeling the Union will have a hard time getting their way…most unions are pretty ineffectual these days.
9 comments on "YORK PA. HARLEY DAVIDSON GOES IN HOUSE WITH TRIKE BUILDS"
"Casual worker" status sounds alot like what Walmart employees have, which is next to nothing. I wonder how the new H-D trikes will differ from Lehman trikes.Thanks, Chessie.

I hope it works out: I don't think there is much wrong with Harley's product but (like so many other companies) they have been a bit lax with the financial controls! We need a strong Harley….BTW, didn't know you had links to Lancaster County – had a very happy visit there some while ago, and one of my proudest posessions is a mug from a coffee shop in Intercourse. Never fails to cause ribald laughter – and of course, I rang my office from the shop."Where are you Affer?" asked my secretary."I'm in the middle of Intercourse!" I replied!

Mike, I doubt there will be much change…Affer, What a great story! Intercourse PA. When I first arrived in Lancaster, the first family that befriended me lived on the main road of Intercourse. They had an antique shop in back of the old stone farm house they lived in. I loved that house. The walls were a foot thick! I love Intercourse! PA. and…oh shut up Chessie while you still have a decent reputation!

too late!!! tell us more!!!

Find one that will trade me straight up.

>Another way harley is saving money on these trikes is all the front wheels are made in China. That is nothing new. The electric harnesses have been made in mexico for about 5 years now. They are made by a plant owned by alcola. The output is triple from what was being made in York.The quality is not the same. You might think I am a harley hater. I have a 2005 road king, 2006 softail deuce and a 2009 flhx. I have had the wiring harness in the road king changed 3 times. I have 29,000 miles on it. The 2009 FLHX has 15,000 miles on it. The workers do get $60.00 a week though. They also have to have the rashes they get from cross contamination from the fiberglass machine that is in the same work area. I can only imagine the savings on the wheels that they are buying from china. They are not just on the three wheelers but also on the most of the touring bikes (cast wheels ). Most of the computers chips are from India and the spoke wheels are and spokes are from Japan. I'm not bashing those countries. It just seems funny or sad that they can't get these parts made in America. I relies that the only reason that Harley has to do this is because of those greedy, lazy, good for nothing union workers. I know management could not be responsible for anything when it come to the company loosing money. The CEO made close to 9,000,000 dollars for the first 8 months that he was hired. The Co. lost over $200,000,000 in the last quarter after the CEO took over. American workers should be able to live on $3.00 a day. They do in china. Harleys are awesome and the way the workers are treated is the best.

>Anonymous,I've long complained (Since HD went public) about the "short cuts" HD factory is taking when it comes to product quality. Very little of the bikes components are now made in America. I know when AMF started running the company…they switched from American made ELECT. components to Japanese, Taiwanese, and Chinese products. But now…almost every thing is produced elsewhere. And yes, I blame the CEO with his over inflated salary…as well as the stock holders with their grab the money now mentality for many of HD's current problems.I'm not happy with HD's current warranty practices… nothing about the HD product is about the consumer anymore…well it is…it's about how well the company can camouflage their fleecing of the consumer by using brand loyalty and patriotic symbolism.So there, I've weighed in…

>Casual worker is at least better than jobless. Isn't it? Nice pic btw.

Interesting. We're not Harley folks but we are planning to ride to York this spring to tour the plant.