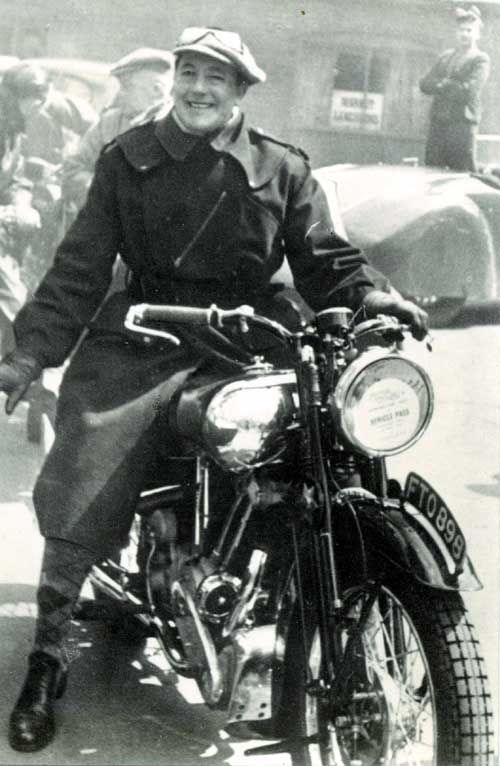 >George Brough's Superior Motorcycles…
How many of you are familiar with George Brough and his motorcycles? Yeah…I've seen them mentioned a time or two…but I've become curious again… I'm doing some research on them… I think I will be writing something on their history in a day or two. Very cool machines.
For now, have a look at the builder of these incredible machines…he's sitting on his Matchless SS100 …. hang in there… you're in for a good read… guaranteed.
6 comments on ">George Brough's Superior Motorcycles…"
>Hi Chessie,Is that really a Matchless surely George Brough would be sitting on a Brough Superior.It is one of the finest motorbikes ever made.I used to have a 250 cc Greeves.A lovely bike.Love,Herrad

>Herrod, the Matchless SS100 is George's own bike build. He sometimes used the Matchless engine in his builds…and other times he used the J.A.P. engine. (I just read this…) So… I know I will have loads of information for you guys to read and enjoy.

>Don't forget to mention Lawrence of Arabia…

>I had the opporutnity to ride an SS80 Brough- a half dozen years ago- it was very similar in power to my ;45 U model H-D, but had a more refined feel.I came close to buying a '39 1150 model- $18000 seemed like ALLOT of money at the time, but now looking back it was a bargain.The Brough was a premium motorcycle, and many survived post war as a side car slogger.The Post war Vincent twin did it all better, faster and with less drama than the pre-war Broughs-Brough did not make many parts, engine trans, wheels etc were brought in parts- Matchless or J.A.P engines, Sturmey Archer transmission. Royal Enfield wheels, etc. Brough 'knocked off' the castle forks that H-D was using in the 20's.He had his own frame-both a rigid and a spring frame of his design, His saddle tank/gas tank design concept set his bikes apart, and of course his fit and finish were 2nd to none.If I recall correctly, Brough built less than 3500 bikes of which aprox 500 were OHV models-mostly the SS100 1000cc twins, and a handful of the 600 cc Black Alpine, often referred to as the Jr SS100.Curiously , his inspiration for a 1000 cc touring V twin came from watching Indian run their 1000 cc V twins at the Isle of Man racing circuit. my two cents.

>Sheepish smilin' Cheshirecat: I had better get to writing real soon,… or my readers will have it all done for me! Great information…thank you~! [sheepish smile]

>Chessie, Go to Jay Leno's garage he has a pretty good video on this. Yes I know of them. What a bike what a designer. Way ahead of his time he was.