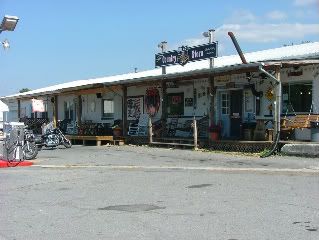 Old Ride revisited…something I wrote a while back
Hey folks. I am doing some revisting old blogs on other sites. Posting here, now, cuz it's too frickin cold to ride…14 degrees…and I'm in trouble with my jonesing….So, I'll relive the past and hope that keeps me satisfied for a while. I'll add pictures later…Jeff wants to drive to Kingsport…OK…anything to get the heck out of this house…can't ride bike, I'll take a ride in my boyfriend's truck!
Shady Valley and about
Off I go again…I left out of the house for Johnson City to do some work at the library. Got it done in an hour and twenty mins. and realized, it was still early. So I head back toward Elizibethton and jump on 91 North. This road will take you through the little borough of Stony Creek and beyond. God, I can't remember all the little unincorporated little towns you pass…but after about 12 miles, you come into the hills and the Cherokee National Forest.
91 winds up the hills with the cool twists and turns, switchbacks, steep drops to the edge of the road…and forest all around. It's late in the year for the greenery of the forests, the trees are wearing their finery, but it is becoming faded and worn. Ahhh but the aromas of the forest is still fresh and new, with honey suckle and other late blooming vines and flowers wafting their fragrance past my nose. It's a nice ride through the Cherokee National Forest.
Up to the pinnacle of the little mountain…back down once more into the valley…it's another three miles or so to Shady Valley General Store, and US421 and onto the section of The Snake.
Stopping at the General Store, I order a burger and onion rings, a Mountain Dew…and watch the parade of bikers going in and out…some watching me as I watch them…yes, we bikers are generally a watchful bunch.
Finishing my meal, I go out to the bike…light a smoke, drag on that till it's to the butt, then knock the cherry off it and deposit the butt in my pocket. Insert the key, hit the switch and she jumps alive once more. Leaving out of the parking lot…turning west toward Mountain City, I'm off.
Before I left, a large group of riders pulled out. I gave them about five minutes before heading out, as I knew they would be moving a tad bit slower than I like to ride. I guess, I didn't give them enough time, because I came upon them in about ten minutes time. Sigh…so I ride behind the group…and yawn…brake and yawn…I have never taken The Snake on the weekend…and I won't again. Too much traffic, and while I am not a knee dragger…I do enjoy just a little more speed than I got behind the bagger draggers! (No, I'm not giving you guys a bunch of shit…I like baggers, and if I was riding one on the Snake…I would be slowing down a bit too…)
On the other side of the Mountain, the state troopers were in action, they had pulled over a speed junkie from the group who left just before my bagger dragger group had…guess the little metric biker didn't know where the trooper Sits…he's there often, at any day of the week…Everyone slows down at that turn…sigh, bet he knows now!
Getting into Mountain City I decide to take US 421 toward Boone. The Bagger Draggers were from VA. and turned North onto CR 167 from US421…that is when I decided "heck, time to get lost again." I make a left, south onto CR167. This turned out to be a real good thing. I followed the Doe River to and fro…up and down little hills around rock bluffs, and down this holler and up that dale…it was a very good road. CR 167 dumps out right into SR 67 and Watuga Lake. The lake is up from the last time I saw it, but not enough for it to look beautiful. That would take another twenty feet of bank to give it the natural beauty of a healthy lake. But all the same at the altitude of this lake…it's amazing it holds any water at all, dam or no dam.
Now that I am on SR 67…I am back in familiar territory…it junctions into SR 321 and home to Elizibethton. It was a three hour ride, and only fifty five miles. But again, it was a good meandering path…used to take my mind away from the crap of daily living.
Another good day down.